Swami Makrandnath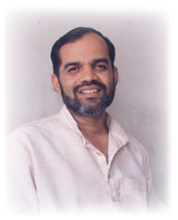 Swami Makarandanath (Shri Makarand Madhav Vaze) came to Swami Madhavnath in 1976 as a young college student. Even as a school boy, he showed yearning for Self-realization. During the vacations for Diwali, the Festival of Lights, he would wander off to a lonely hillside and cry out to God , 'When will the Diwali of Self-realization illumine my life?' He had a strong desire to understand pure spirituality and was initiated by Swami Madhavnath in 1977. He soon became a close and sincere disciple of Swamiji.

The qualities of spiritual understanding and leadership were recognized by Swamiji and he encouraged him to organize a group of young disciples who were also attracted by Swamiji's teachings. The young group metamorphosed into the Swami Madhavnath Bodh Prasarak Mandal of which Swami Makarandanath was a founder trustee along with other disciples.

He seriously studied the Bhagavad Gita, Jnaneshvari , Dasabodh , Tukaram Gatha, Upanishads, etc. and understood their gist by attending Swamiji's discourses regularly. He became deeply engrossed in meditation and recalling the name of God and attained first-hand experience of the spiritual truths expressed in them.

Today Swami Makarandanath is carrying forward the spiritual tradition of the Natha Sampradaya and initiating disciples. He is also shouldering the responsibility of the Swami Madhavnath Bodh Prasarak Mandal.